Our Acorn Academy provides behavioural change, emotional wellbeing, and addiction awareness training courses for service users,  professionals, and the wider public.
"My educational career when I was younger was far from a pleasant experience. I didn't always get the support I needed for my visual impairment and I'd often get looked down upon by others. I was anxious about returning to education for these reasons but the support, dedication to that support and positive responses from the staff at Acorn Academy, and from fellow students alike, has been outstanding. I couldn't ask for more. I'm so glad I didn't let my past dictate my future. "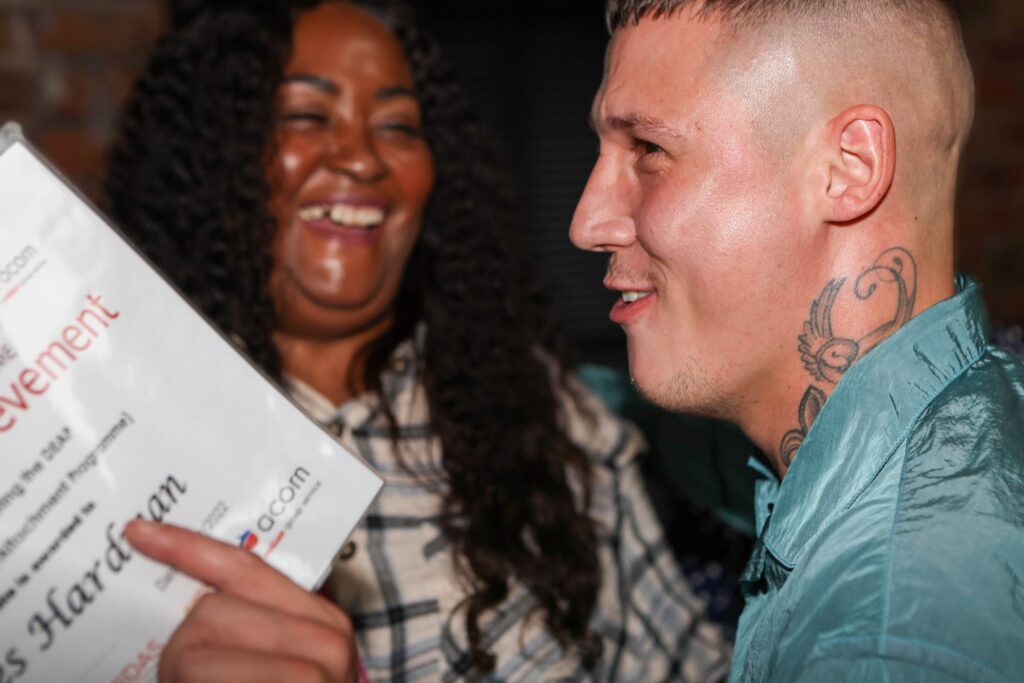 What we do
With courses facilitated by health and social care professionals, the Acorn Academy is recognised as a centre for learning by the National Open College Network (NOCN).
We can develop bespoke training packages upon request, and this is an area which is being developed rapidly with more courses and projects being created.
We also work in partnership with Stockport Continuing Education & Hopwood Hall College.
Our training is delivered online and at a range of venues across the North-West.
Please contact dfredericks@acornrecovery.org.uk for more details, or to discuss how we can help you.
Combination Learning Programme
Group facilitation
(12 hours)
Includes:
Types of Groups,
Paradigm Shift,
Competency Matrix,
Motivational Interviewing,
Body Language and Communication Within a Group Setting.
Learners are given the opportunity to demonstrate their knowledge and practice their skills by leading a presentation. This part of the course helps develop confidence in leading and managing groups, maintaining flow and group engagement, and provides valuable constructive feedback.
Counselling concepts
(60 hours)
Includes:
Exploring What Counselling Is,
Practising Counselling Skills,
Emotional Intelligence and Self-Awareness,
Focus on Person-Centred Counselling,
Communication and Listening Skills,
Ethics and Values,
and Addiction Awareness.
This course can be used as a gateway onto the Level 3 Counselling Skills course.
Learners will gain knowledge about counselling as well as knowledge about themselves, as they are encouraged to start looking at their own growth and personal development.
The course provides the opportunity for people to learn and develop a wide variety of transferable skills.
Keeping the Key
This is a 3-day course to learn practical skills to securing a home within the social and private housing sector.
Includes:
social housing and responsibilities of tenants and landlords,
how to deal with problems effectively,
self-awareness and our behaviours.
Peer Mentoring
This is an 8-day course on how to become a positive, empowering mentor.
Includes:
the legal requirements that are set by the government and the employer,
boundaries and how to set them to keep the mentor and client safe.
Learners will carry out practical trial sessions to develop communication and listening skills.
This course develops confidence and the skills to be able to progress into an employment role.
Derek Fredericks
Derek Fredericks is a fully qualified BACP registered Counsellor and a qualified substance misuse practitioner specialising directly in and the issues surrounding addiction. Since 2005, he has helped people suffering and their families and loved ones too.
Derek's personal experience of addiction issues give him greater insight and understanding when it comes to the issues relating to addiction. Derek has been drug and alcohol free for more than a decade.
He is qualified to Diploma Level, a qualified substance misuse practitioner, and an advanced qualified tutor in counselling and substance misuse, using a wide range of therapeutic approaches including Cognitive Behavioural Therapy (CBT), Gestalt, Psychodynamic and person centred counselling.