When it comes to is providing the services we do, it's important to recognise that this simply wouldn't be possible without the army of volunteers we have by our side every single day. With services covering a range of areas, from Burnley and Lancaster to Blackpool and Manchester, it's the combination of staff and volunteers which allow it work as smoothy as possible.  
90% of our trained volunteers have previously used our services. They use their own lived experience, along with thorough training provided by us and the wider Calico Group, to enhance the recovery journey of others.  
Clients come to our services for many different reasons, including substance misuse, intervention from social services, and complex needs. Once they complete an initial 12- or 20-week programme, they're given the option to expand their skills with various training and reintegration offers. This can lead to opportunities at Acorn to support others in the same situation they once were.  
During this process, we work with each volunteer to establish what type of work they'd like to do, and their personal aspirations and future ambitions. For many, this first step is about is about connecting with others, learning new things, and integrating into a work environment without the additional pressure of a full-time paid role.   
They then go through our Volunteer and Staff Training (VAST) programme around practical topics such as Safeguarding, GDPR, Health and Safety and more, our volunteers learn about the importance of values, Boundaries, Effective Communication and Listening Skills, and Equality and Diversity in the Workplace.  
Volunteers are also offered the opportunity to attend additional courses provided by the Acorn Academy, such as Level 2 Peer Mentoring and Level 2 Combination Learning Programme.  After completion of these courses, many volunteers progress onto the Level 3 Counselling Skills course, delivered by Stockport Continuing Education in partnership with the Acorn Academy. 
We find that most of our volunteers with lived experience are motivated by a desire to 'give back', and to improve their own sense of purpose and self-worth. Once they complete training, volunteers tasks can include things like co-facilitating groups; peer mentoring; supporting with enrollment and attendance, both in residential services and out in community; calling clients to check in; taking clients to appointments; supporting with benefit applications. This helps create many transferable skills which can be utilised in different sectors too.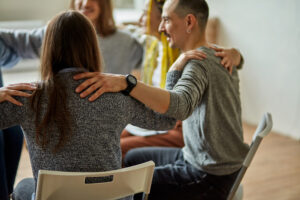 Our Acorn Volunteer Coordinator, Louise Whitworth, started off as a volunteer herself. Having previously worked in finance for more than decade, Louise began volunteering in 2011 after supporting a loved one through their recovery journey as an alcoholic.  
After learning more about the support sector though this experience, Louise wanted to help others after learning about the field. This ultimately led her securing a paid role as a Housing Support worker at Acorn in 2013.  
Louise says: "After volunteering for a couple of different young person's services and completing training in counselling skills courses and as a substance misuse practitioner, I gained a paid role with Acorn.  Throughout my time at Acorn, I have worked alongside our much-valued volunteers in all my roles.  The difference that they make to all our service users recovery journey is remarkable.   
"Many of our volunteers come from a life of addiction and mental ill health, social service involvement, broken family relationships and criminal history, to a life where they are free of substances and crime, their mental health has improved, family relationships rebuilt, and a recovery community is established and built upon.   
"Education, training, and work experience become part of every volunteer's personal goal to improve their self-worth, employability and most importantly gain knowledge of how to support service users, with compassion, empathy and understanding. Our volunteers make such a huge impact to the services we deliver, their dedication, time and support continue to add to the quality and success of these services". 
In 2021, seven of our volunteers went on to secure permanent employment with Acorn, and another seven went in to paid employment roles outside of Acorn. 13 of those people were in recovery and had come through Acorn services.  
Outreach Support Worker, Ben Healy, says:" I started volunteering for Acorn Recovery Projects in 2019 after I'd been through their treatment and rehabilitation process. Previously, I'd spent around 25 years in active addition and led a life of chaos and crime. I was placed in the housing office, helping clients set up benefits or supporting them with hospital visits. I learnt a lot working in the office, such as how to use computers and speak to professionals over the phone.  
"All of this really helped my confidence and I learnt how to deal with people on a day-to-day basis. I also worked in the houses as a volunteer caretaker when needed. This had a more person-centered approach to the role and the use of administration skills I was quickly picking up along the way. This led to a full-time job caretaking working with ex-offenders who had substance misuse problems. I did this for around 9 months before being offered a role as a Floating Support Worker in the community in my own area.  
"Whilst in this role, my IT skills and confidence were still growing and I was subsequently then offered a higher paid job working with complex needs homeless people, which I thoroughly enjoy and I'm still doing at the present. I would not be in the position I'm in now without the pleasure of volunteering with Acorn. The things I learnt in the office can be transferred to my personal life. More importantly, the confidence in working with people in a group setting or 1-1 basis, I take with me and value the most." 
 If you'd like to learn more about what our volunteers do, or what roles we have available, please contact us on 07583 052031 or lwhitworth@acornrecovery.org.uk